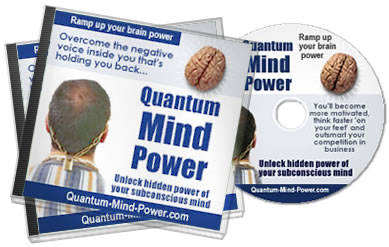 Morry Method Quantum Mind Power
Here's a very pricey CD-set. At $97, this system uses brainwave entrainment technology with the following aims:
Taken from their website
# Visualize yourself using our product to ramp up your brain power to a level that you will never achieve from all the motivational tapes and programs in the world combined. And this comes from less than 30 minutes of "relaxation" time per day.
# Envision yourself being able to tap into the subconscious mind to boost your creativity and learn to attract wealth into your life. All the great geniuses of our time attest to their subconscious as the source of their ''higher intelligence'' such as Albert Einstein and Thomas Edison!
# Just think naturally reducing stress, anxiety, tension and worry. Inviting peace, calm, confidence and excitement into your life. Just incredible!
# Feel yourself experiencing a level of happiness and euphoria without the use of harmful and addictive drugs by increasing the brains natural "feel good" chemicals.
# You'll become more motivated, think faster 'on your feet' and outsmart your competition in business. You'll always be one step ahead of the crowd while others try to catch up.
Yep, I bought the CDs to experience for myself the zen-like states of bliss.
And I wasn't impressed.
The CD uses the same binaural technology as found at far better sites like www.mind-tek.com, www.bwgen.com or www.xtrememind.com You can get freebies that do the same thing at the latter two sites and experience exactly the same benefit.
But to their credit, the stuff works. I felt high. I floated on bliss. And I felt darned good.
Still… would you pay, when zero cost stuff are up for grabs?
No related posts.
Related posts brought to you by Yet Another Related Posts Plugin.
20 Responses to 'Morry Method Quantum Mind Power CD Review'
Leave a Reply